EVENTOS
LOS ABCs at SUNDANCE 2010
Download the Sundance iphone App amd view Los ABCs as one of five "Sundance Comedy Classics"for this year's festival.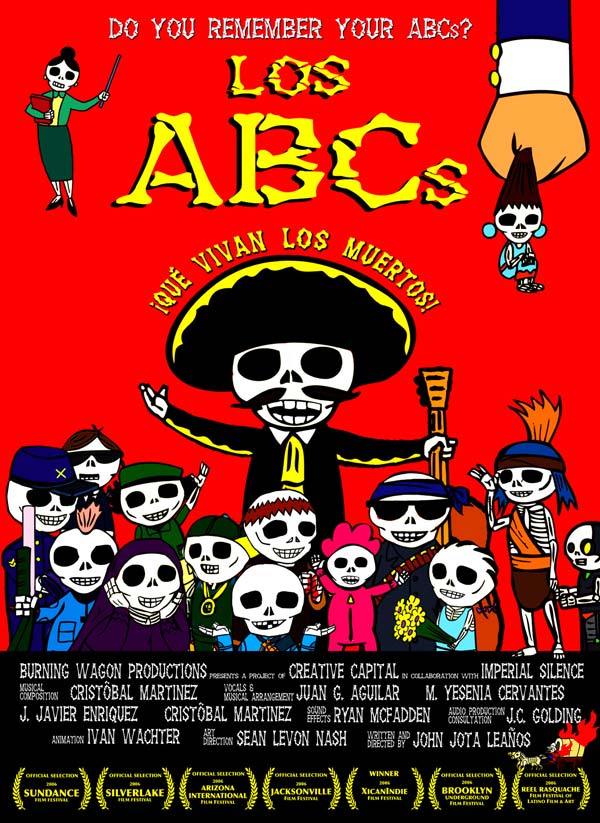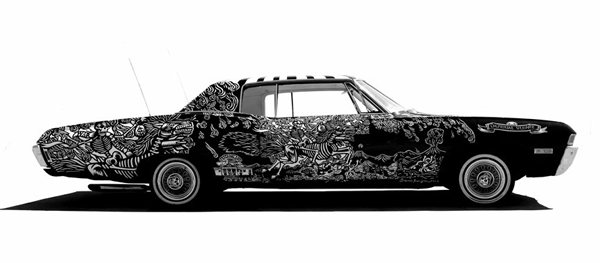 Friday, June 5, 2009
6pm - midnight
The Muertorider at SubZERO Festival and the 2009 Chicana/o Biennial
@ MACLA
510 South First Street San Jose, CA 95113
Come to the SubZero Festival to see El Muertorider for reals! At the opening of the
2009 Chicana/o Biennial at MACLA (Moviemento de Arte y Cultura Latino Americana)
Opening Reception: Friday, June 5, 8 - 10pm
¡Y también! Yolanda M. López will be signing: Friday, June 5, 7 - 8pm
Join us in celebrating the second publication of the A Ver: Revisioning Art History series, highlighting the artistic contributions by Yolanda M. López. At SubZERO, a DIY, artistically bent, hi/lo-techno-mashup where street meets geek presented by ZER01 and South First Fridays.
Some Past Eventos
January 2006
Potentially Harmful: The Art of American Censorship Exhibtion, January 16-March 10, 2006
The Ernest G. Welch School of Art and Design Galleries Georgia State University, Atlanta

The goal of Potentially Harmful is to bring into the public realm a discussion of creative freedom in the United States. As an urban, public university gallery committed to developing projects that explore contemporary art and ideas, we consider it essential to address this topic. The project relates directly to our intention to engage a greater public in our exhibitions and programming and to provide a forum open to both conservative and liberal viewpoints. Read more
Sundance International Film Festival, January 18-29, 2006 http://festival.sundance.org/2006/
Theatrical Première of Los ABCs ¡Qué Vivan los Muertos!
February 2006
UC Santa Barbara Lecture on Los ABCs 4-5pm February 16, 2006
March 2006
Silver Lake Film Festival, March 23-31, Silver Lake, Los Angeles, http://silverlakefilmfestival.org/
Boston Underground Film Festival March 22-26, 2006 http://www.bostonundergroundfilmfestival.com/
April 2006
XicanIndie Film Festival, April 6-9, El Centro Su Teatro, Denver, CO http://www.suteatro.org/
Brooklyn Underground Film Festival, April 19-23 at the Brooklyn Lyceum http://www.brooklynunderground.org/
Sin Fronteras Film Festival, April 20-23 at Guild Cinema, Albuquerque, NM http://sinfronterasfilmfestival.com/
Arizona International Film Festival, April 20-30, Tuscon, AZ http://www.azmac.org/festival/index.htm
Artist talk at UC Berkeley, The Department of Ehtnic Studies, April 12, 2006
Artist talk at University of Washington, Tacoma, The Department of Interdisciplinary Arts and Sciences Program, April 18, 2006
May 2006
Reel Rasquache Festival of U.S. Latino Experience in Film & Art, April 30-May 2, 2006 http://www.calstatela.edu/dept/reelrasquache/
Jacksonville Film Festival, May 18-21, 2006, Jacksonville, FL http://www.jacksonvillefilmfestival.com/
Artist Talk at University of California, Santa Barbara, Center for Chicano Studies, May 17
August 2006
Museum of Contemporary Art, San Diego, 'Toon Town Troublemakers, August 2006 http://www.mcasd.org/
Fall 2005
A Knock at the Door...
September 8--October 1, 2005
South Street Seaport Museum, Melville Gallery
213 Water Street
Opening Reception: September 8th, 6 - 9pm
The Cooper Union for the Advancement of Science and Art
7 East 7th Street
Panel Discussion: September 30th, 7pm
Our First Amendment rights are no guarantee. In 2001, shortly after the September 11th attacks, polls indicated that 50% of the U.S. population agreed with the statement "The First Amendment goes too far in the rights it guarantees." This dramatic climate change has a huge impact on art, how it is made, exhibited, and discussed. Now, when works by certain artists or of an indefinable political nature are exhibited, we can virtually guarantee the Secret Service will show up.
The Disasters of War: From Goya to Golub
September 10-December 11, 2005
Ezra and Cecile Gallery, Wesleyan University
283 Washington Terrace

The Ezra and Cecile Zilkha Gallery at Wesleyan University presents The Disasters of War: From Goya to Golub , an exhibition of contemporary and historic works by nineteen artists that explore the effects of wars spanning four centuries. Organized by Nina Felshin, curator of Zilkha Gallery, the exhibition is comprised of major historical works from Wesleyan's Davison Art Center collection and contemporary work in various mediums including paintings, videotapes, DVD projections, photographs, and installations that explore recent international events. Incorporated into this exhibition will be the exhibition Inconvenient Evidence: Iraqi Prison Photographs from Abu Ghraib, curated by Brian Wallis and co-organized by the International Center of Photography in New York and The Andy Warhol Museum in Pittsburgh.
What's Not to Love: Humor and Satire
Opening October 8, 2005
Galería de la Raza
2857 24th Street
San Francisco, CA 94110
Phone: 415-826-8009
http://www.galeriadelaraza.org/
Spiritual Frontera: Works from Xicanindio Artes
October 14 - November 27, 2005
Mesa Contemporary Arts
1 East Main Street
PO Box 1466
Mesa, Arizona 85211-1466
Celebrating El Dia de Los Muertos
Promoting indegenous art and culture, Xicanidio Artes showcases Chicano and Native American work that commemorates "El Dia de los Muertos" ("The Day of the Dead") in a non-traditional manner.
http://www.mesaartscenter.com/main.aspx
February Events 2005
February 2-March 26:
"Su Arte Here/ Five Years of Galeria's Digital Mural Project" Galería de la Raza's 35th anniversary exhibition series - a retrospective exhibition of the first five years of Digital Mural Program which which I co-founded with Carolina Ponce de León. The exhibition, entitled "Su Arte Here/ Five Years of Galeria's Digital Mural Project, will consist of photos, documents and small format facsimiles of the commissioned pieces. The exhibition will run from February 2 to March 26.
February 9:
"Art in a Time of Infinite War"
Lecture at Evergreen State College in Seattle, Washington
February 18:
College Art Association Conference in Atlanta, Georgia
I will be on two panels on Friday at the Atlanta Marriot:
Trigger Art (formerly known as The Patriot Act and the Arts), 12:30-2pm
IOn this panel, I will beta-test ideas from an essay in progress called, "Imperial Silence and Surveillance: Art in a Time of Infinite War"
The Writing on the Walls: Criticism and Community Murals, 2:00-4:30pm
On this panel I will talk about ideas from my essay, "The (postcolonial) Rules of Engagement: Cultural Activism, Advertising Zones and Xican@ Digital Muralism" On thi
February 25:
"Art as Empowerment"
Conference at Arizona State University (Neeb Hall, 4:30pm) with the following participants:
The Guerrilla Girls
Melinda de Jesus
Stephani Woodson
John Jota Leaños
The panel will be follwed by a performance by the Guerrilla Girls.